So much of my work relies on hyper pigmentation and chroma pallets. It is really good for me to just break it down to black and white. I also was using an open cup technique to get these liquid results which was new for me at the time. So many ways to do this! Guess I'll have to experiment the rest of my life.
Scarf Dancer
This black and white painting, composed in acrylic paint, is an expressionist styled painting of a dancer with a scarf and a bouquet. The moon shines in the background. The painting has lovely movement, And you can feel the enthusiasm of the dancer through her body posture.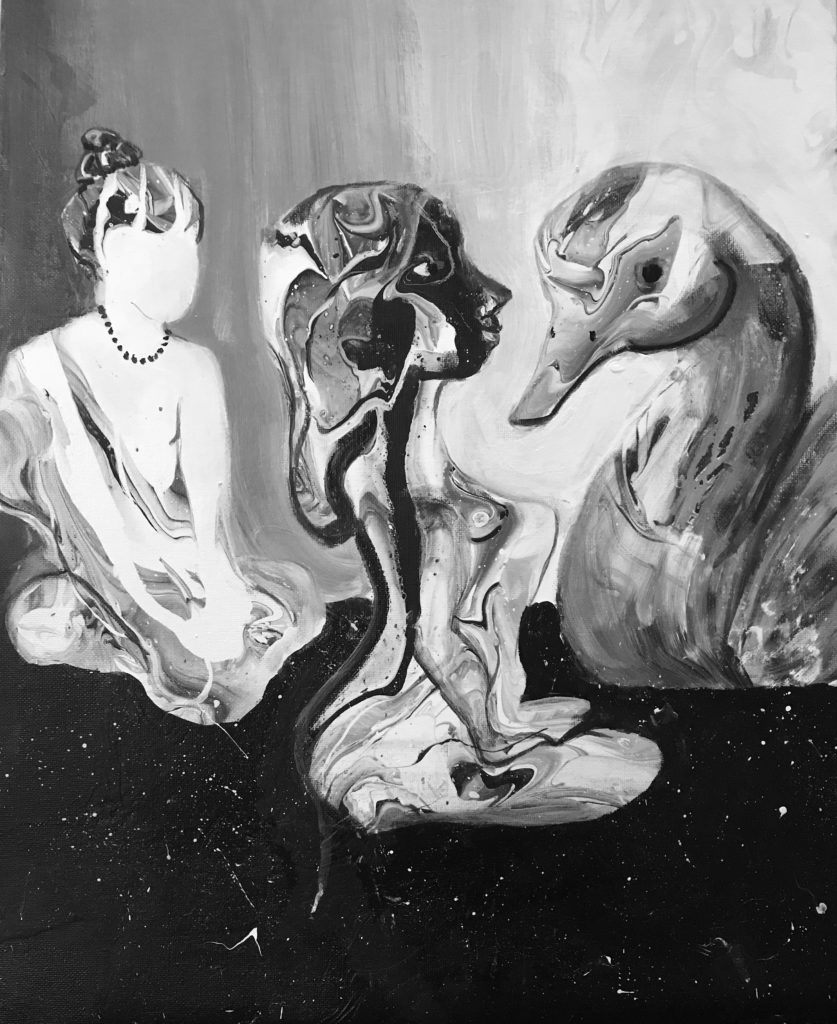 Surrealistic Meditation
Surrealistic meditation is like an image from a dream. Three beings together in one space, a duck, a woman sitting cross legged, and the Buddha. Woman has a smile on her face. Within her body you can see all the sizes she's been. She's happy with herself as she is.
A Monkey on His Back
The proverbial monkey can make even the mighty lion crazy. A reminder to not let addictive substance run you. Plus some cool black and white stuff. Plus some cool black and white stuff.Acrylic, original 16" square.
Lord of the Beasts
Lord of the Beasts represents primal masculine energy as it relates to the natural world. This is not the devil. The devil is part of the Christian pantheon. This imagery comes from what is whole and holy about nature that is masculine. It represents healthy and balanced masculine energy, used for its right purposes.
Contemplating the Moon
A woman stares up at the moon. Her hair is as black as night. This black and white figurative work incorporates acrylic pouring techniques with brush work.