Blue Lillies
This flower is said to bring a sense of peace and well-being. This represents our deep spiritual nature reaching down into the muck of life and making something beautiful. Blue lilies part of the flora and fauna collection by Sylvia Brallier. Original 12" x 12" by acrylic on canvas. Prints, all sizes or similar commissions are welcome.
Pink Lotus
A beautiful lotus flower sits on dark water, its roots go down to the dark soil. Just like the lotus, we must arise from the muck of our lives to something more beautiful and more peaceful.
Poppies for Georgia
This painting is my tribute to Georgia O'Keefe, whose bold yet stark portrayals of the natural world inspired me. Nature, in all its mystery of form and color, is truly miraculous.
" "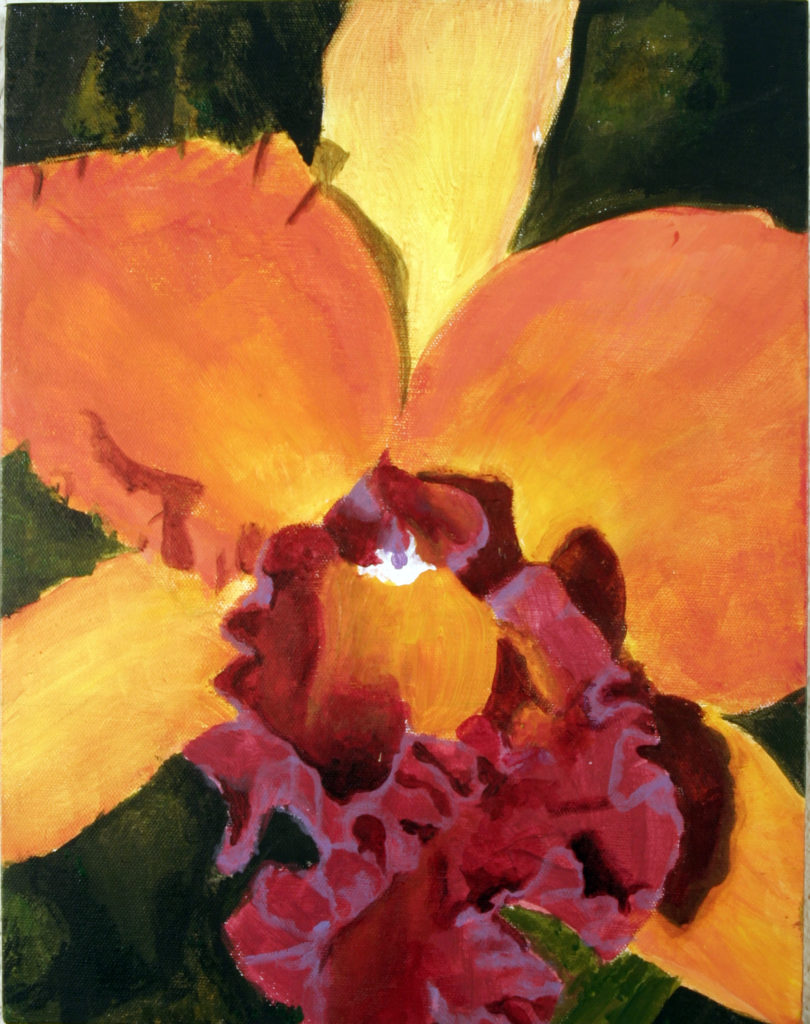 Orange Orchid
Pink Cactus Flowers
Jungle Orchids
Orchids in the jungle featuring a botanical painting pink and rose red orchids set in a black background
Koi and Lotus
A beautiful lotus sits in stillness while the Koi fish glide through the water reflection from trees. And elegantly beautiful piece for reflection and creating an environment of beauty and peace.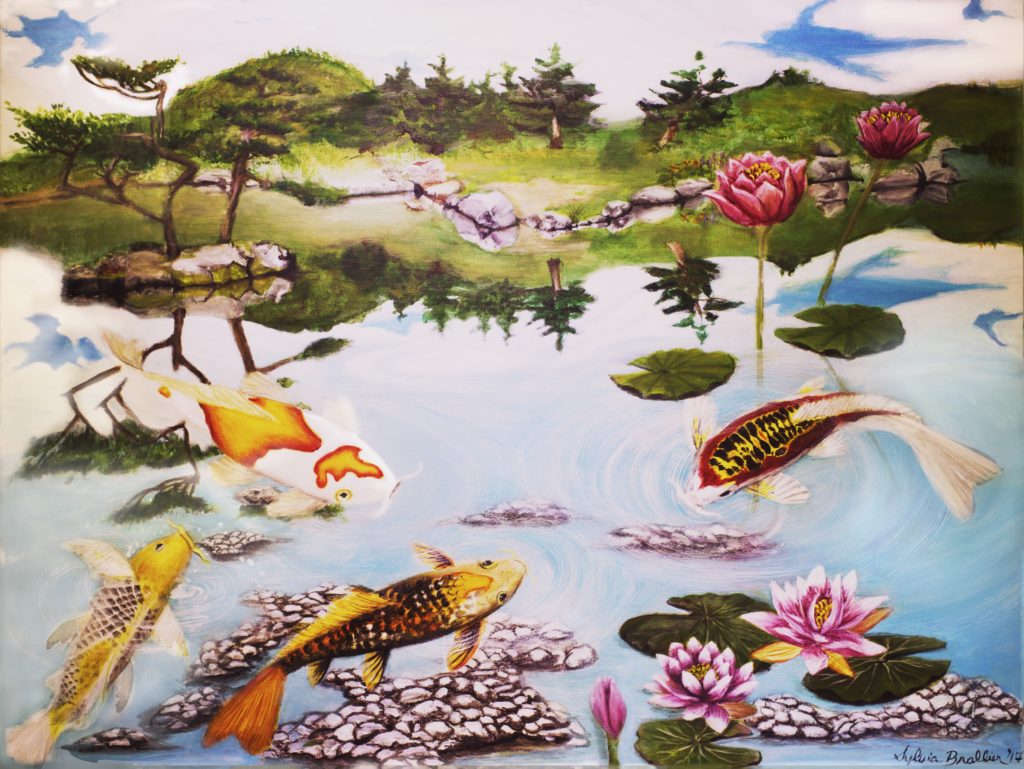 Koi Pond with Lotus Flowers
Koi fish swim through clear blue water. Lotus flowers rise up and show their beauty. Peaceful calm day where the reflections are perfect from land to water. Gentle countryside brings a sense of peace and contentment. I like to make art that Helps spaces and people feel more peaceful, at ease and happy. Life can be hard. Beautiful art can help us to remember life's joy.
Crane Reflection
This painting of a crane and its reflection in the water has been up in my home for many years and I really love the environment that it creates in the home…one of peaceful reflection and the beauty of nature. I hope you enjoy it as much as I have.
Lyric Great Egret
I'm loving the lyric flow in this painting. I even have a video of the initial acrylic pour which I will share with anyone who purchases this piece of art. It would be a great NFT! It's so peaceful and optimistic. It makes a space feel really nice to have this painting in it. I know because the original is up in my house right now!
Red Bird in Flight on a Beautiful Day
Red Bird in Flight on a Beautiful Day reminds us to fly light and fly free. It's an invocation of lightness.
Foxy
Nature is so foxy! This little fox is here to remind you of the wonder of nature. Foxes are inquisitive creatures quite playful in the wild. I'll never forget a summer where there was a mother fox raising three cubs in a field near my house. I could regularly go watch them play in the fields. I feel lucky and privileged to have been able to do so.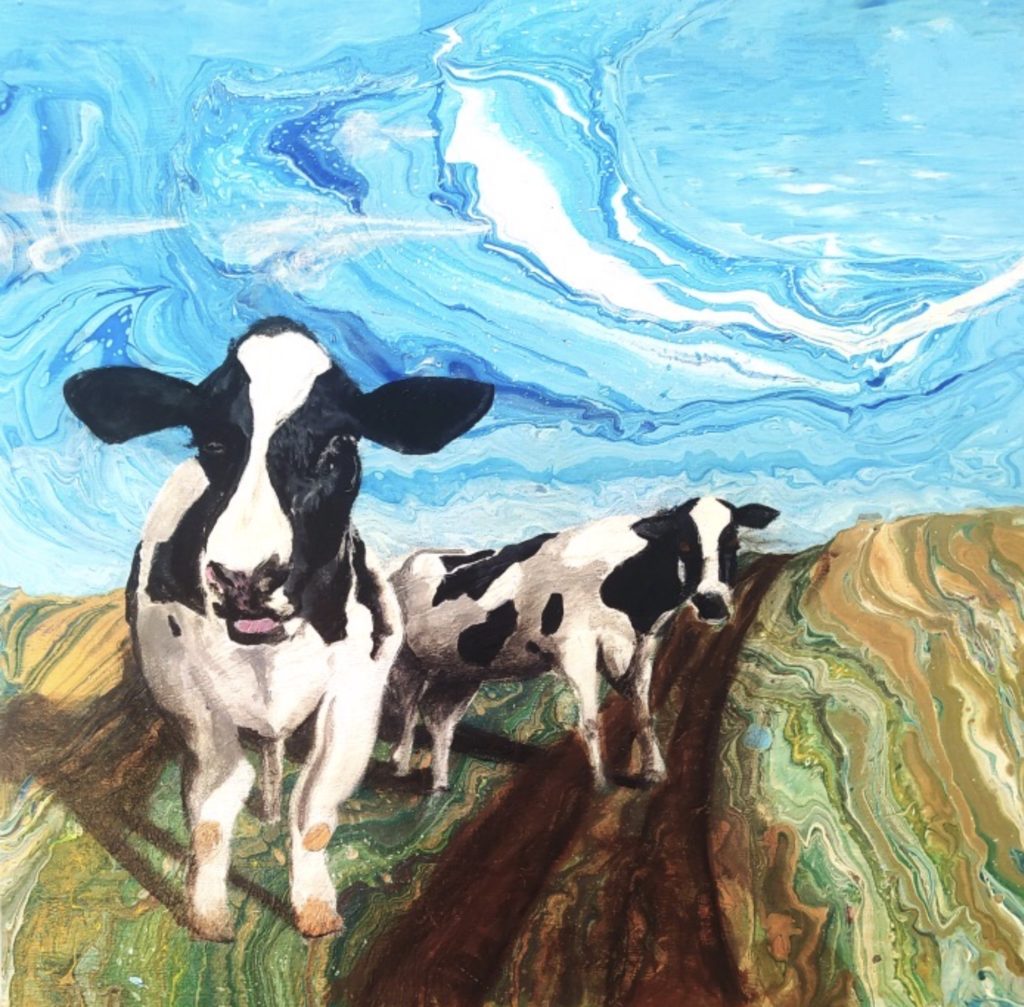 Divine Bovine
Two cows in a field. A really fun piece utilizing acrylic pouring and perspective to make for a very interesting image. This painting is loved by people who like bold and playful paintings.